Eija Sumner writes lyrical, quirky, and humorous picture books. They're a bit odd but lovely. Her first picture book, Crocodile Hungry! publishes Spring 2022 from Tundra Books. Eija also writes non-fiction for kids and novels for older kids and teens.
She lives in Idaho with her husband, three children, two cats, one day, and one red-eyed bunny. Eija loves art, libraries, silly cat videos, socks, soccer, the Portland Trailblazers, fresh peaches, reading and sharing stories, bright colors, tea, her family, taking walks, learning about new things, and being warm. She does not like omelettes.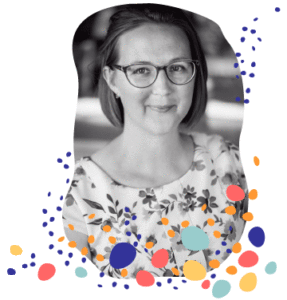 Eija has an MFA from Hamline University in writing for children and young adults. While a student at Hamline, Eija received the T.A. Barron Fellowship for Excellence in Fantasy Writing, the Anne Tews Schwab Award for Excellence in Critical Writing for her extended critical essay, "Language and Sound in Story," and Eija received the Frances and Kermit Rudolf Scholarship Award for the most promising manuscript in the field of nonfiction.  Eija is a member of SCBWI and active in her local chapter and a member of the 12×12 picture book community. 
Eija's writing is represented by Natascha Morris at The Tobias Literary Agency.